Ad blocker interference detected!
Wikia is a free-to-use site that makes money from advertising. We have a modified experience for viewers using ad blockers

Wikia is not accessible if you've made further modifications. Remove the custom ad blocker rule(s) and the page will load as expected.
IMDb Rating

4.3
Directed By
Prem Lalwani
Produced By
Prem Lalwani,
C.P. Singh
Written By
Sachin Bhowmick
Starring
Nafisa Ali,
Dharmendra,
Girish Karnad
Music By
Laxmikant Shantaram Kudalkar,
Rameshwee,
Pyarelal Ramprasad Sharma,
Kamal Singh
Editing By
Das Dhaimade,
Rajaram
Release Date(s)
1996
Runtime
113 minutes
Country
India
Language
Hindi

4 image(s) of
Aatank
Aatank is a 1996 Bollywood horror film, directed by Prem Lalwani and starring Dharmendra. It also known as Bollywood Jaws as it has a sub-pot with a killer shark.
Jesu and Peter are childhood friends who live in a coastal village in India and depend on fishing as their livelihood. The community is oppressed by a powerful gangster named Alphonso. Jesu is an orphan, while Peter is brought up by his aunt and uncle, after the death of his mother. The community is all thrilled when Phillips finds black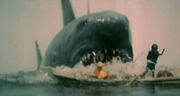 pearls off the coast. But then so does Alphonso, who asks his divers to get all the pearls, thus disturbing the ocean. Peter meets with Suzy D'Silva and they fall in love with each other, and get married. While enjoying a quiet swim on the sea-shore, Suzy disappears. A search is carried out, and a number of human body parts are recovered. With shock and horror, this community finds that their livelihood is being threatened by a gigantic, virtually indestructible man-eating shark.
Nafisa Ali as Suzy D'Silva
Dharmendra as Jesu
Girish Karnad as Inspector Khan
Amjad Khan as Alphonso
Kader Khan as  D'Costa
Padma Khanna as Rosie K. Crasto
Ravi Kishan as Mahesh Kumar
Hema Malini as Jesu's girlfriend
Vinod Mehra as Peter
External links
Edit