IMDb Rating

4.6
Directed By
Luis Llosa
Produced By
Andy Fickman,
Verna Harrah,
Carole Little,
Beau Marks,
Leonard Rabinowitz,
Susan Ruskin
Written By
Hans Bauer,
Jim Cash,
Jack Epps Jr.
Starring
Jennifer Lopez,
Ice Cube,
Jon Voight
Music By
Ice Cube,
Randy Edelman
Cinematography
Bill Butler
Editing By
Michael R. Miller
Distributed By
Sony Pictures
Columbia Pictures
Release Date(s)
April 11, 1997
Runtime
89 minutes
Country
United States,
Brazil
Language
English
Followed by
Anaconda is a horror film. The plot centers on a film crew for National Geographic, who are kidnapped by a hunter, who is going after the world's largest anaconda, which is discovered in the remote jungle. Though a modest box office hit, the film was critically panned. It was followed by the sequel Anacondas: The Hunt for the Blood Orchid.
Plot
Shooting a documentary about a long-lost Indian tribe on the Amazon River, director Terri Flores and members of her crew, including cameraman Danny Rich and Professor Steven Cale, come across stranded snake hunter Paul Sarone. They help him, believing he knows how to find the tribe they're searching for, but Sarone acts strangely and the crew suspect something.
When Cale is bitten by a poisonous wasp, which entered his mouth (leaving him unconscious for nearly the rest of the film), Sarone takes command of the boat... and the crew. They are forced to help him achieve his true objective; hunting down and capturing a record-breaking Green Anaconda he had been tracking.
During the process, several members of the crew are killed before the snake itself is shot dead and Sarone incapacitated by the newly awakened Cale. Later on, Terri and Danny, two of the surviving members of the crew, are captured, when Sarone catches up to them. He dumps a bucket of animal blood on them and uses them as bait in an attempt to capture a second, larger Anaconda.
The Anaconda, Terri and Danny are caught in a net by Sarone, but escape when the snake breaks free. The survivors cut their bonds and break free as Sarone himself is killed by his quarry. The snake becomes trapped in the smoke stack, which Danny ignites and it seems to have died.
As Terri and Danny recuperate on a nearby dock and the snake appears one final time. Danny beats the anaconda with an axe until it is finally slain. Afterwards, the survivors of the expedition reunite on the ship, and as they float down the river, accidentally locate the natives they were originally searching for. They realize Sarone was right and begin filming their documentary as the movie ends.
Cast
Jennifer Lopez as Terri Flores
Ice Cube as Danny Rich
Jon Voight as Paul Sarone
Eric Stoltz as Dr. Steven Cale
Jonathan Hyde as Warren Westridge
Owen Wilson as Gary Dixon
Kari Wührer as Denise Kalberg
Vincent Castellanos as Mateo
Danny Trejo as Poacher
Frank Welker as Anaconda (voice)
Critical reception
The film received negative reviews from critics. The review aggregator Rotten Tomatoes reported that the film received 24% positive reviews, based on 29 reviews.[1] Metacritic reported the film had an average score of 37 out of 100, based on 20 reviews.[2] Roger Ebert gave the film three out of four stars.
Videos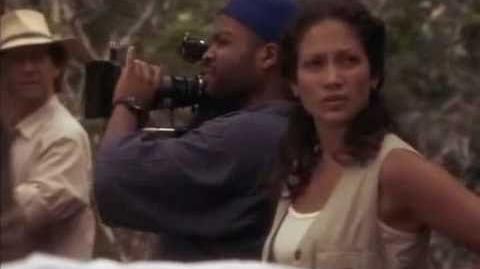 References
External links