Brain Damage
Talk

0
1,381pages on
this wiki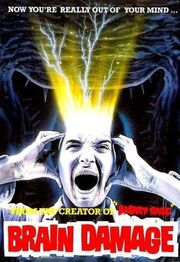 Brain Damage is an American horror film that was released in 1988, and directed by Frank Henenlotter (Basket Case, Frankenhooker).
Plot
One morning a young man wakes to find a small, disgusting creature has attached itself to the base of his brain stem. The creature gives him a euphoric state of happiness but in return demands human victims.
Production
The film was heavily edited by the MPAA in order to receive an R-rating.
Near the end of the film, there is a brief appearance by a man on the subway with a large wicker basket. This is meant to be a cameo appearance by Duane Bradley, the main character from Henenlotter's earlier film Basket Case.
Release
The film was given a limited release theatrically in the United States by Palisades Entertainment Group in 1988. It was subsequently released on VHS by Paramount Home Entertainment.
The film was released on DVD by Synapse Films in 2007. This special edition release features commentary by Henenlotter and reinstates all of the excised gore footage.
Reception
Brain Damage, is a much loved quirky film, with a Rotten Tomatoes Rating of 70%. Online movie review site, From the Mind of Tatlock, had this to say "The only thing I can really say that may convince you to give this movie a watch, is if you happened to look up the definition of 'insanely insane', you would probably see a picture of Aylmer, the brain eating slug next to it and that my friends is how an unknown, but completely enjoyable film comes to be born. Born via a phallic-looking, suave-talking, brain-eating slug creature."
Gallery