IMDb Rating

3.5
Children of the Corn III: Urban Harvest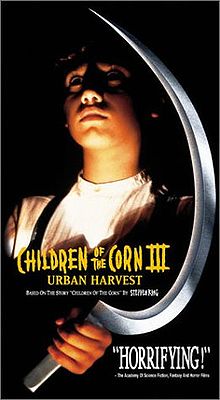 In the heart of a city an adult nightmare is about to be reborn
Directed By
James D.R. Hickox
Produced By
Brad Southwick,
Gary DePew
Written By
Dode B. Levenson
Stephen King (original)
Starring
Daniel Cerny,
Ron Melendez,
Jim Metzler,
Nancy Grahn
Music By
Daniel Licht
Cinematography
Gerry Lively
Editing By
Chris Peppe
Distributed By
Dimension Films
Release Date(s)
September 12, 1995 (United States)
Runtime
92 minutes
Country
United States
Language
English
Preceded By
Followed by
Children of the Corn III: Urban Harvest is the third film in the Children of the Corn series, based on the short story of the same name by Stephen King. The film focuses on two mysterious brothers who, after living in rural Nebraska for their entire lives, are adopted and brought into Chicago; a chain of deadly occurrences surrounding the family follows, and revelations of a cult that the younger brother may have been involved in. The film stars Daniel Cerny in the leading role of the younger brother, Eli, and also marks the film debut of Charlize Theron, who had a non-speaking role as one of the cult's followers.
Children of the Corn III: Urban Harvest was the first film to be made entirely by Dimension/Miramax Films, and the last film in the series to receive a theatrical release. It opened in US cinemas on September 12, 1995.
Newly orphaned brothers Joshua and Eli, of Gatlin, Nebraska (the setting of the first film), are adopted by Mr. and Mrs. Porter of Chicago after their father is murdered. When they matriculate in school in Chicago, everyone notices they are strange. Eli is a disciple sent by "He Who Walks Behind the Rows", the demonic god of the Children of the Corn, and begins recruiting local children to do the demon's bidding.
Daniel Cerny as Eli
Ron Melendez as Joshua
Jim Metzler as William Porter
Nancy Lee Grahn as Amanda Porter
Michael Ensign as Father Frank Nolan
Jon Clair as Malcom Elkman
Mari Morrow as Elkman
Duke Stroud as Earl
Rif Hutton as Arnold
Garvin Funches as T-Loc
Johnny Legend as Derelict Man
Gina St. John as Diane
Yvette Freeman as Samantha
Terence Mathews as Dwayne
James O´Sullivan as Charles Brady
Charlize Theron as Young Woman
This was the first film for Nicholas Brendon, who appears as one of the basketball players. He was uncredited for the role.
Charlize Theron has a small role as one of the children of the corn. She was also uncredited for the role.
Ad blocker interference detected!
Wikia is a free-to-use site that makes money from advertising. We have a modified experience for viewers using ad blockers

Wikia is not accessible if you've made further modifications. Remove the custom ad blocker rule(s) and the page will load as expected.