IMDb Rating

3.2
Directed By
Sompote Sands
Produced By
Dick Randall,
Robert Chan
Distributed By
Chaiyo Productions
Release Date(s)
15 February, 1980 (Thailand)
Runtime
92 minutes
Country
Thailand
Language
Thai
Crocodile (original title Chorakhe) is a 1979 horror film, produced by the Thai studio Chaiyo Productions. The film centers on a mutant crocodile that was created by atomic testing in the Pacific ocean.
Released in other/non-Asian territories by Dick Randall's Spectacular Trading Company, Crocodile exists in several different versions.
What was supposed to be a getaway vacation quickly turns into a run-away nightmare as a pair of doctors take their families to the beach only to be attacked by a giant, flesh-eating crocodile. When the doctors realize the truly destructive potential of the renegade reptile, they hire an expert in hopes of cornering the croc and blowing it to smithereens; however, the beast is smarter than they anticipated, and as the clock ticks down and the doctors move in for the kill, residents of the small seaside community quickly begin falling prey to the voracious predator [1].
Nat Puvani as Tony Akom
Min Oo as John Stromm
Manop Asavatep as Tanaka
Ni Tien as Angela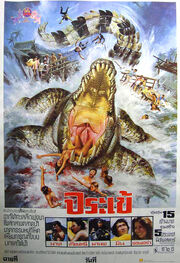 Crocodile is the only non- US killer animal film and was dubbed in English in the USA where it earned an ire of the American Humane Association (AHA) for it's un-simulated animal voilence during a brief crocodile show sequence where a showman happily lifts a live crocodile for the audience to see before plunging a knife deep into the animal's neck and slashes it as blood spurts, revealing that the crocodile used was either alive or recently killed. AHA attempted to contact the film's distributor, Cobra Media, regarding the animal cruelty but our inquiries were unanswered. As a result, AHA rated Crocodile unacceptable.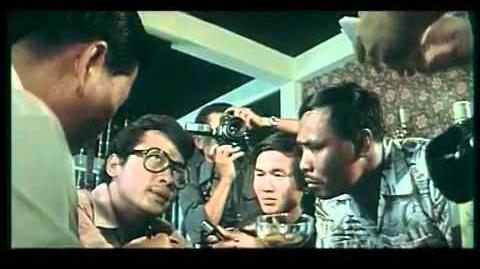 References
Edit
Ad blocker interference detected!
Wikia is a free-to-use site that makes money from advertising. We have a modified experience for viewers using ad blockers

Wikia is not accessible if you've made further modifications. Remove the custom ad blocker rule(s) and the page will load as expected.