Dwight Frye
[[Image: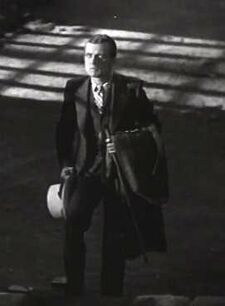 |230px|]]
Dwight Iliff Fry
was an American actor best remembered for perpetuating the archetype of the sycophantic assistant in service to a malevolent force. In 1931, he immortalized the characters of
Renfield
and soon after,
Fritz
in the films
Dracula
and
Frankenstein
(respectively). Frye's final genre film was 1943's
Frankenstein Meets the Wolf Man
where he played a bit part as a villager named Rudi. Soon after, Frye passed away from a heart attack stemming from a condition that he had nursed throughout most of his life.
Horror films of Dwight Frye FRANKENSTEIN (1931) DRACULA (1931) THE INVISIBLE MAN (1933) THE VAMPIRE BAT (1933) BRIDE OF FRANKENSTEIN (1935) THE GHOST OF FRANKENSTEIN (1941) FRANKENSTEIN MEETS THE WOLF MAN (1943)
Body of work
Edit
31/2/12 Dracula
31/6/21 The Black Camel
31/11/21 Frankenstein

32/7/6 By Whose Hand?
32/11/20 A Strange Adventure

33/1/20 The Vampire Bat
33/4/10 The Circus Queen Murder
33/11/13 The Invisible Man

35/4/22 Bride of Frankenstein
35/9/24 The Crime of Dr. Crespi
35/12/9 The Great Impersonation

37/12/22 The Shadow

38/7/24 Think It Over (Crime Does Not Pay, No. 19)

39/1/13 Son of Frankenstein
39/6/26 The Man in the Iron Mask

40/3/15 Drums of Fu Manchu
40/6/7 Phantom Raiders
40/7/3 Sky Bandits

42/3/13 The Ghost of Frankenstein

43/2/10 Dead Men Walk
43/3/5 Frankenstein Meets the Wolf Man
External Links
Edit
References
Edit
Derived from Dwight Frye's IMDb page