Frank Henenlotter
(born 1950) is a manic writer, director and editor who was a key figure in the 80's splatter craze. Having grown up in Manhattan, he was raised on trashy exploitation pictures such as
The Curious Dr. Humpp
(1969). His first effort was the memorably macabre cult spectacular
Basket Case
(1982), which featured buckets of well-staged gore. This classic was followed by
Basket Case 2
(1990) and
Basket Case 3: The Progeny
(1992), which merely piled on the gore and added a touch of ludicrous black comedy to the series.
Brain Damage
(1988), his second feature, was one of his best efforts and it featured a parasite forcing a boy to give it human brains for food by injecting him with an addictive drug.
Frankenhooker
(1990), in which Dr. Jeffrey Franken stitches together parts of various New York prostitutes to create a monster, was similarly offensive fun. Henenlotter's latest feature,
Bad Biology
(2008), has clearly shown that he is moving away from straightforward horror and more towards sexploitation.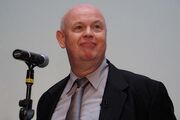 Horror Filmography
Edit
Son Of Psycho (Date unknown)
Lurid Women (Date unknown)
Basket Case (1982)
Brain Damage (1988)
Basket Case 2 (1990)
Frankenhooker (1990)
Basket Case 3: The Progeny (1992)
Bad Biology (2008)
External links
Edit
http://www.imdb.com/name/nm0376963/ (at imdb)
Imadjafar 13:12, December 26, 2009 (UTC)
Ad blocker interference detected!
Wikia is a free-to-use site that makes money from advertising. We have a modified experience for viewers using ad blockers

Wikia is not accessible if you've made further modifications. Remove the custom ad blocker rule(s) and the page will load as expected.