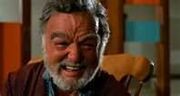 Grandpa Chapman is the grandfather of a serial killer, Billy Chapman in Silent Night, Deadly Night
His minor story
Edit
It started on Christmas Eve, 1971: Billy Chapman, his parents and his infant brother, Ricky, are on their way to visit Billy's institutionalized grandfather.
At the institution, Billy's parents review the catatonic grandfather's records with the doctor, leaving Billy and the old man alone.
With the adults gone, Grandpa suddenly becomes lucid and giddily tells Billy the terrible, secret truth about Santa Claus: he not only gives presents to good boys and girls, he punishes naughty ones.
Ad blocker interference detected!
Wikia is a free-to-use site that makes money from advertising. We have a modified experience for viewers using ad blockers

Wikia is not accessible if you've made further modifications. Remove the custom ad blocker rule(s) and the page will load as expected.