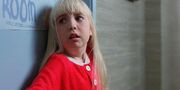 Heather Michele O'Rourke (December 27, 1975-February 1, 1988) was an american child actress for best known for portaying Carol Anne Freeling from the horror film Poltergeist.
Heather became sick during 1988 of a cardiac arrest and a bowel obsruction, When she was 12-years old Heather died of a bowel obstruction and a cardiac arrest.
Ad blocker interference detected!
Wikia is a free-to-use site that makes money from advertising. We have a modified experience for viewers using ad blockers

Wikia is not accessible if you've made further modifications. Remove the custom ad blocker rule(s) and the page will load as expected.