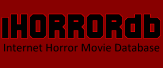 The Internet Horror Movie Database (abbreviated iHORRORdb) is an online database of information related to horror movies and TV series including cast, crew, fictional characters, biographies, synopsis, posters, stills, trailers and reviews. Celebrities can post their own biographies, upload photos of themselves and submit new titles or upload posters and Full HD stills of their horror movies. The site enables users and guests to submit new material and request edits to existing entries. Although all data is checked before going live.
iHORRORdb has been created in August 2015 by the horror score composer and horror writer Antony Coia. The database has over 7.000 horror movies, 50.000 celebrity pages and a database of over 15Gb of images. Every movie page presents trailer, poster, stills, crew and cast names, reviews and comments. It lists both mainstream and independent horror movies from all over the world.
Both users and guests can submit new titles, crew and cast names and submit new trailers. Registered users can add their favorite movies to their profile page in which there are watchlist and favorite lists.
Movies and Series archives
Edit
Movies and Series archives can order titles by title (A-Z), Most rated and by release date, in ascending or descending order.
Horror filmographies
Edit
Celebrity filmographies contains a picture, the biography and a link to Wikipedia or to the official website of the celebrity.
Legal online streaming service
Edit
In October 10, 2015, iHORRORdb starts a free service of legal streaming.First movies added to the service are The Sender, Circle of Eight, Rumpelstilskin, Shanks, Ghost Team One, The Texas Chainsaw Massacre 2, Beneath and The Loved Ones from Paramount Pictures.
Ad blocker interference detected!
Wikia is a free-to-use site that makes money from advertising. We have a modified experience for viewers using ad blockers

Wikia is not accessible if you've made further modifications. Remove the custom ad blocker rule(s) and the page will load as expected.