J.C. Quinn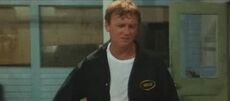 J.C. Quinn (born November 30, 1940 - February 10, 2004) was an American and television actor.
Biography
Edit
Quinn studied acting in New York and spent 17 years on Stage before moving to Hollywood to act in films. With his rugged facial features and gravelly voice, J.C. Quinn was often mistaken for two better-known actors, Harvey Keitel and Dick Miller, both of whom he resembled. His most memorable role was probably that of Elmo, a cook in the 1985 movie "Vision Quest" with Matthew Modine. The downtrodden Elmo gives his "That Six Minutes" speech (about the meaning all events have in the grand scheme of life), which inspires Modine's character, Louden Swain, to pursue his Vision Quest.
In 1978, he first appeared in On the Yard (1978) as Luther.
In 1986, Quinn starred along with fellow actors Emilio Estevez, Pat Hingle, Laura Harrington, Christopher Murney, Yeardley Smith, Marla Maples, and Canadian actor Pat Miller in Stephen King's directorial debut film Maximum Overdrive (1986) as Duncan Keller.
In 1989, Quinn had a lead along with fellow actors Ed Harris and Michael Biehn in the James Cameron film The Abyss (1989) as Arliss 'Sonny' Dawson.
1992, he had a lead in the film The Babe (1992) as Jack Dunn.
2000, Quinn starred as Sgt. Tom Janks in the film Takedown (2000).
On February 10, 2004, Quinn was killed in a car crash in Mexico at the age of 63.
External links
Edit
Ad blocker interference detected!
Wikia is a free-to-use site that makes money from advertising. We have a modified experience for viewers using ad blockers

Wikia is not accessible if you've made further modifications. Remove the custom ad blocker rule(s) and the page will load as expected.