Ad blocker interference detected!
Wikia is a free-to-use site that makes money from advertising. We have a modified experience for viewers using ad blockers

Wikia is not accessible if you've made further modifications. Remove the custom ad blocker rule(s) and the page will load as expected.
IMDb Rating

5.1
Directed By
Produced By
Written By
Diablo Cody
Narrated By
Amanda Seyfried
Starring
Music By
Thodore Shapiro
Cinematography
M. David Mullen
Editing By
Plummy Tucker
Distributed By
Release Date(s)
Runtime
103 min.
Country
USA
Language
English
Budget
$16 Million
Gross
[[Category:
20th Century Fox
]]
Jennifer's Body is a 2009 dark comedy and horror film written by Diablo Cody. The film is directed by Karyn Kusama and stars Megan Fox, Amanda Seyfried and Adam Brody. It was released in the United States and Canada on September 18, 2009 with an R-rating. The title is a reference to a song from Hole's album Live Through This. Another song from the album, "Violet", is played over the end credits.
Nerdy, reserved bookworm Anita "Needy" Lesnicki (Amanda Seyfried) and arrogant, conceited flag girl Jennifer Check (Megan Fox) have been best friends "since the sandbox", although they share little in common. One night, Jennifer drags Needy to a local dive bar to attend a concert by indie rock band Low Shoulder, with eyes on its blithely evil lead singer, Nikolai Wolf (Adam Brody). While flirting with Wolf, Jennifer insinuates that she is a virgin. A disastrous fire destroys the bar, and Jennifer ends up leaving the bar with the band, who take her into the woods, where she learns that the band is worshiping Satan, and that Wolf intends to use her as a virgin sacrifice in order to gain fame. However, as Jennifer was not a virgin, the demon spirit takes over her body. Later that evening, Jennifer appears at Needy's house, covered in blood, looking vacant, and vomits a trail of "black ferromagnetic fluid".[2] The following morning, Jennifer appears fine, and the small town is devastated by the destruction of the local bar. A month after the incident Jennifer is beginning to look pale and tired. That day, Colin (Kyle Gallner) asks her on a date and that night she kills him brutally while Needy and her boyfriend Chip have sex. Needy senses this and leaves Chip's house in a panic. While driving she almost runs over Jennifer covered in someone else's blood. Needy rushes home and goes to bed. There she finds Jennifer who explains what happened that night after she left the bar with the band. She even goes to show Needy what happens when she is "full" and stabs herself and the cut heals almost immediately. Needy then kicks her out of the house and Jennifer jumps out of the second story window and vanishes. The next day at school the news of a death of yet another classmate stuns the school. Needy goes to the library into the occult section to do research and finds that Jennifer is weakest when she is hungry and must eat flesh in order to sustain her life and appearance. Needy surmises that Jennifer is eating the bodies of boys to survive.
Needy decides she must stop Jennifer as she fears her boyfriend, Chip (Johnny Simmons), may be the next one she goes after. All the while the band that performed at the bar have become local heroes as they claim to have helped people out of the fire when they were no help at all. They rocket to fame and their single "Through the Trees" is the town's new anthem and the theme of the school's spring formal. Needy tells Chip not to attend the dance and breaks up with him because she fears for him but he goes against her and decides to go to the dance anyway. As he is walking to the dance Jennifer sneaks up on him, claiming she has always had feelings for him and that Needy was cheating on him with Colin. While he is upset she makes a move and they begin to kiss. Needy senses them kissing and runs out of the dance to find him. When she approaches the spot in the park where they were kissing she hears Chip yell coming from the abandoned pool on top of a hill. As she forces her way inside she finds Jennifer feeding on Chip's neck. Then, Needy jumps in the pool and attempts to drown Jennifer but Jennifer begins hovering above the water as Needy helps Chip, who is bleeding from the neck, out of the pool. Jennifer and Needy begin to fight and as soon as Jennifer tries to attack her Chip stabs Jennifer with a pool skimmer. Jennifer bleeds a little but then escapes. Needy cradles Chip as he dies, both proclaiming their love for one another. Later, Needy attacks Jennifer in her own home, yelling, "You killed my f*cking boyfriend!" As they fight, Needy pulls out a boxcutter and cuts Jennifer twice across her stomach, making an 'X', which doesn't affect her. Needy rips off Jennifer's BFF necklace, which stuns Jennifer who begins to fall down to her bed. Needy comes down with the boxcutter stabbing Jennifer in the heart, and sets Jennifer free. After Jennifer dies, her mother comes and finds Needy on top of Jennifer's bloody body.
Needy is committed to an asylum for the criminally insane. Since she was bitten by Jennifer who was a demon and survived, she obtained some of Jennifer's supernatural traits. With these powers, Needy escapes the facility and tracks down Low Shoulder, brutally killing them for turning Jennifer into a demon and causing all the ensuing death and destruction.
Production
Edit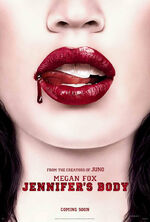 Pre-production
Edit
Jennifer's Body is the follow-up to writer and producer Diablo Cody's and Jason Reitman's collaboration efforts on Juno. In October 2007, Fox Atomic pre-emptively purchased the rights to Cody's script with Megan Fox to star. Peter Rice, who oversees both Fox Searchlight and Fox Atomic, brought in the project as Fox Searchlight had previously distributed Cody's film Juno.[3] Mason Novick and Reitman's producing parter Dan Dubiecki signed as producers in November 2007 with plans to produce the film under Hard C, which is housed at Fox Searchlight. Reitman commented, "We want to make unusual films, and anything that turns a genre on its ear interests Dan and I."[4] Karyn Kusama was announced as director in January 2008.[5]
In February 2008, a cease and desist was given to a writer at CC2K.com after they posted an advance script review for the film.[6] The Latino Review also posted an advance review.[7] At the time CC2K.com received their cease and desist order, questions were raised why Latino Review's largely positive script review was allowed to stay posted while CC2K was being forced by Fox Searchlight to remove their mainly negative coverage.[8] Although Latino Review was later asked to remove their review, numerous other websites and blogs have published their own critiques of the script.[9][10][11]
Megan Fox was in negotiations to star as Jennifer since the film was announced in 2007, and was officially cast in October 2007.[12] In February 2008, Amanda Seyfried was cast as Needy, the "plain Jane" best friend to Fox's character.[13] Chud.com reported that the filmmakers were looking at actual rock band members Pete Wentz of Fall Out Boy and Joel Madden of Good Charlotte to portray male lead Nikolai Wolf. Also considered was actor Chad Michael Murray.[14] In March 2008, actor Johnny Simmons was reportedly cast as Nikolai.[15] However, Adam Brody was officially cast in the role of Nikolai, while Simmons was then given the role of Chip.
In late 2007, Fox Atomic had plans to film Jennifer's Body before a possible writer's strike. However, when the Writers Guild of America strike began, shooting was then moved to March 7, 2008 in Burnaby, British Columbia, specifically at Robert Burnaby Park near Cariboo Hill Secondary School. Some of the scenes, particularly those situated in a school setting, were filmed in local Vancouver-area schools, such as Vancouver Technical Secondary School, Langley Secondary School and University Hill Secondary School.
Reception
Edit
The film has received mixed reviews from critics. Review aggregate website Rotten Tomatoes reports the film as holding a 43% overall approval rating with critics based on 104 reviews,[16] with a generally negative 36% approval rating from "top" critics based on 25 reviews.[17] The site's general consensus is that "Jennifer's Body features occasionally clever dialogue but the horror/comic premise fails to be either funny or scary enough to satisfy".[16] At Metacritic, the film holds a generally mixed score of 47/100, based on 28 reviews,[18] while IGN gives the film 2.5 stars out of 5.[19]
Film critic Roger Ebert enjoyed the film, dubbing it a "Twilight for boys" and saying "as a movie about a flesh-eating cheerleader, it's better than it has to be".[20] He gave the film three out of four stars.[20] Rick Groen of The Globe and Mail gave the film three out of four stars as well.[18] Peter Travers of Rolling Stone stated it is "Hot! Hot! Hot!" and that "Director Karyn Kusama is torn between duty to female empowerment and slasher convention".[21] Dana Stevens of Slate praised the film for being "luscious and powerful, sexy and scary, maddening at times, but impossible to stop watching" and a "wicked black comedy with unexpected emotional resonance, one of the most purely pleasurable movies of the year so far".[22] The Miami Herald's Rene Rodriguez likened the film's "[effective exploitation] of the genre as a metaphor for adolescent angst, female sexuality and the strange, sometimes corrosive bonds between girls who claim to be best friends" to Brian De Palma's 1976 film Carrie.[23] A.O. Scott of The New York Times concluded "the movie deserves — and is likely to win — a devoted cult following, despite its flaws" and "[these flaws] are mitigated by a sensibility that mixes playful pop-culture ingenuity with a healthy shot of feminist anger".[24]
Giving a partially negative review of the film was Joshua Rothkopf of Time Out New York, who said the "movie has a centerfold sheen to it — and some lesbianic soft-core flirtation to match — as its plot dives deeply into Twilight-esque heavy-melo meltdown in the last act" and that "Cody throws one too many losses at Needy; the screenwriter loses her satiric way about halfway through. But for a while, this has real fangs".[25] Ann Hornaday of The Washington Post said, "There's a certain kooky, kinky fun to be had with Jennifer's Body" but that "[a]dmittedly, this is the stuff of lurid adolescent distraction, not great cinema" and "is strictly a niche item but provides a goofy, campy bookend to Drag Me to Hell on the B-movie shelf. Watch it, forget it, move on".[26] San Francisco Chronicle's Peter Hartlaub stated, "Enjoy the film for its witty dialogue and fun performances, but know that there isn't a single good scare. An episode of Murder, She Wrote has more thrills."[27] Michael Sragow of Baltimore Sun described the only "perfect aspect" of Jennifer's Body as being its title. "No one is going to like this movie for its brain," he said.[28] Claudia Puig of USA Today stated of the film, "Jennifer's Body is not as hot as you hope it would be",[29] and Joe Neumaier of New York Daily News said, "Words and story are still the lifeblood of a movie, and Jennifer's Body is filled like a Twinkie with half-fleshed-out ideas."[30]
Box office
Edit
Though the film was expected to pull in a significant number of the late teenage/young adult audience, particularly males aged 17 and older, it earned a "disappointing" $2.8 million on its opening Friday and $6.8 million its opening weekend; the film placed #5, while 3D animated film Cloudy with a Chance of Meatballs placed #1 with 30.1 million.[31][32] Produced for $16 million, Jennifer's Body attracted audiences 51% female, with 70% of patrons under age 25.[32]
Box-office analysts have debated the film's underperformance. Box-office analyst Jeff Bock, of Exhibitor Relations, reasoned that the film underperformed at the box office due to two reasons; the first, he said, is the genre. Bock stated that Americans get horror and comedy, but with the idea "of those two things together in one place, people suddenly get very dumb".[33] "The horror-comedy genre is the toughest sell in Hollywood," he said. He noted films Tremors, Slither, Shaun of the Dead, Eight Legged Freaks and The Evil Dead series, and said that while many of those are considered critical and business successes, "none of them have brought in the megabucks that a simple horror or comedy can".[33] In addition, he labeled the Scream franchise as more "straight-up horror" than comedy.[33]
Despite other R-rated horror films having centered around teenagers, Bock said the second reason Jennifer's Body underperformed at the box office is the R-rating, which he described as a "killer" for the film. He said the film is set in high school and "sounds like the perfect package for teens" but that "the R rating banned many teens from the theaters" and the studio was left with "an R-rated film marketed to whom, exactly?"[33] Hollywood.com box-office analyst and President Paul Dergarabedian said "the poor numbers don't mean Fox can't open a movie".[34] "It may be a matter of just choosing the right projects for her," he told the Associated Press. "She's trying to find a world beyond Transformers, and she will. She's young and has a lot of promise."[34]
Soundtrack
Edit
The film's soundtrack was released by Fueled by Ramen on August 25, 2009 and featured previously released music by various indie rock and alternative rock bands such as White Lies, Florence + The Machine, Silversun Pickups and Black Kids.[35] It also features pop punk band All Time Low. The album also features new songs from pop rock artists such as Cobra Starship and Panic at the Disco.[35] The first single from the soundtrack is "New Perspective" by Panic at the Disco. The album received a 3 out of 5 review from Allmusic, who praised the album's mixture of pop rock and indie rock.[35]
DVD/Blu-ray
Edit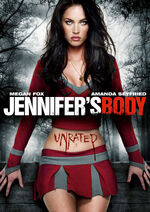 The film was released on both DVD and Blu-ray on December 29, 2009. There is a rated and an unrated version. The DVD cover has been leaked online.[36] As well as the Blu-ray cover.[37]
References
Edit
↑ "Jennifer's Body". The Numbers. Retrieved on 2009-12-17.
↑ Newitz, Annalee. "Everybody wants Pieces of Jennifer's Body." io9. September 18, 2009.
↑ 16.0 16.1 "Jennifer's Body". Rotten Tomatoes (September 15, 2009).
↑ "Jennifer's Body". Rotten Tomatoes (September 21, 2009).
↑ 18.0 18.1 "Jennifer's Body reviews at Metacritic". Metacritic (September 16, 2009).
↑ "Jennifer's Body". IGN (Sepetember 17, 2009).
↑ 20.0 20.1 Ebert, Roger (2009-09-18). "Jennifer's Body (R)". Chicago Sun-Times. Retrieved on 2009-09-19.
↑ Travers, Peter (2009-09-18). "Jennifer's Body". Rolling Stone. Retrieved on 2009-09-19.
↑ Stevens, Dana (2009-09-18). "Jennifer's Body". Slate. Retrieved on 2009-09-19.
↑ Rodriguez, Rene (2009-09-18). "Jennifer's Body (R) **½: Flirting with greatness, bedeviled by timidity". The Miami Herald. Retrieved on 2009-09-19.
↑ Scott, A.O. (2009-09-18). "Jennifer's Body (2009)". The New York Times. Retrieved on 2009-09-20.
↑ Rothkopf, Joshua (2009-09-18). "Jennifer's Body". Time Out New York. Retrieved on 2009-09-19.
↑ Hornaday, Ann (2009-09-18). "Jennifer's Body". The Washington Post. Retrieved on 2009-09-20.
↑ Hartlaub, Peter (2009-09-18). "'Jennifer Body' sags under weight of cleverness". San Francisco Chronicle. Retrieved on 2009-09-20.
↑ Sragow, Michael. "'Jennifer's Body' is dodgy hipster horror film". Baltimore Sun. Retrieved on 2009-09-20.
↑ Puig, Claudia (2009-09-18). "'Jennifer's Body': Kind of hot, but a little flabby in spots". USA Today. Retrieved on 2009-09-20.
↑ Neumaier, Joe (2009-09-18). "'Jennifer's Body': Megan Fox zombie horror satire needs more fleshing out". New York Daily News. Retrieved on 2009-09-20.
↑ "Friday Estimates: Meatballs And Informant Do Well, Jennifer's Body And Love Happens Don't". The Box Office Junkie (September 19, 2009).
↑ 32.0 32.1 "'Cloudy' wins weekend boxofice". The Hollywood Reporter (September 20, 2009).
↑ 33.0 33.1 33.2 33.3 Gornstein, Leslie (2009-09-21). "Did Jennifer's Body Bomb Because of Megan Fox?". E!. Retrieved on 2009-09-21.
↑ 34.0 34.1 "Jennifer Aniston, Megan Fox Bomb at the Box Office". Us Weekly (2009-09-21). Retrieved on 2009-09-21.
↑ 35.0 35.1 35.2 Template:Allmusicguide

This page is retrieved from [[w:c:{{{1}}}|{{{2}}}]] wiki.

↑ http://www.amazon.com/Jennifers-Body-Amanda-Segfried/dp/B002USF1WC/ref=sr_1_3?ie=UTF8&s=dvd&qid=1257978208&sr=8-3
External links
Edit