Les Vampires is a 1915 10-part silent film serial. It was written and directed by Louis Feuillade and stars Musidora as "Irma Vep" a femme fatale whose name is a suspicious anagram of "vampire." The serial is set in Paris, France and follows the exploits of a gang of master criminals who call themselves "Les Vampires."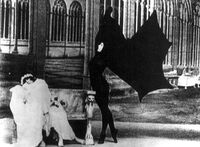 There are 10 episodes, averaging around 40 minutes each; it is about 6 and a half hours total.
The story of the 1996 movie Irma Vep features an attempt to remake Les Vampires.
Country: France
Run Time: 399 minutes
Color: Black and White
Release Date: 13 November 1915 (France)
Directed by
Louis Feuillade
Writing credits
Louis Feuillade

Starring
Musidora ... Irma Vep
Édouard Mathé ... Philippe Guérande
Marcel Lévesque ... Oscar Mazamette
Jean Aymé ... Le Grand Vampire
Fernand Herrmann ... Juan-José Moréno/Brichonnet
Stacia Napierkowska ... Marfa Koutiloff
Edmund Breon ... Secrétaire de Satanas (as Edmond Bréon)
Renée Carl ... L'Andalouse
Miss Édith ... Comtesse de Kerlor
Jacques Feyder ... (episode V: L'évasion du mort)
Rita Herlor ... Mrs Simpson
Émile Keppens
Louise Lagrange
Louis Leubas ... Satanas/Père Silence
Gaston Michel ... Valet de chambre
Frederik Moriss ... Vénénos
Laurent Morléas ... Officier de la Grande Armée
René Poyen ... Eustache Mazamette
Delphine Renot ... Mère de Guérande
Germaine Rouer ... Augustine
Thalès

Original Music by
Robert Israel (2000)
Cinematography by
Manichoux

Other crew
Robert Israel .... orchestra leader
Episodes
Edit
The ten episodes of the Vampires series are titled as follows:
1. La Tête coupée
2. La Bague qui tue
3. Le Cryptogramme rouge
4. Le Spectre
5. L'Évasion du mort
6. Les Yeux qui fascinent
7. Satanas
8. Le Maître de la foudre
9. L'Homme des poisons
10. Les Noces sanglantes
---

1,2 ... Information cited from http://frenchfilms.topcities.com/nf_Les_Vampires_rev.html © James Travers 2002