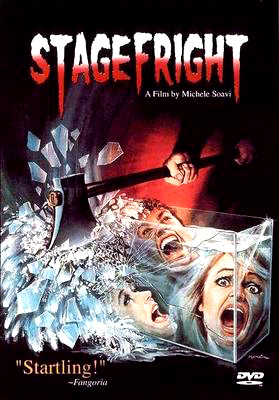 Stage Fright (Italian title: Deliria) is a 1987 Italian horror film directed by Michele Soavi. The film stars Barbara Cupisti, David Brandon, Giovanni Lombardo Radice, Loredana Parrella, Martin Phillips, Robert Gligorov, Jo Ann Smith, Ulrike Schwerk, Piero Vida, Mary Sellers, and Clain Parker. Written by George Eastman (writing as Lew Cooper), the story combines elements of the giallo and slasher genres.
Stage Fright (1987)Edit
| | | | | | |
| --- | --- | --- | --- | --- | --- |
| # | Name of Victim | Cause of Death | Killer | On-Screen Death | Notes |
Ad blocker interference detected!
Wikia is a free-to-use site that makes money from advertising. We have a modified experience for viewers using ad blockers

Wikia is not accessible if you've made further modifications. Remove the custom ad blocker rule(s) and the page will load as expected.