Known aliases
Mabel
Film
Status
Deceased
Portrayed by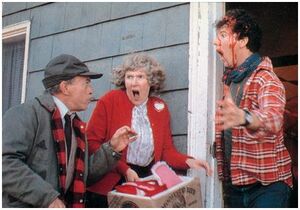 Mabel Osborne
is a character who appears only in the original of the slasher My Bloody Valentine in 1981.
I'm afraid not Mayor
Edit
Mabel owns a laundry mat in Valetine Bluffs and is the person behind the Valentine's Day decorations. She also is one the key planners of the Valentines party planners.
Her untimely demise is part of the reason the mayor forbids any parties. She is killed late at night in her laundry mat by Axel via a pickaxe stabbing. Axel then removed her heart and placed in a candy box.
He also dumped her body in one of the laundry machines making her body fry up and partially melt away.
The Towns Decorations
Edit
Mabel was the second victim of Axel Palmer.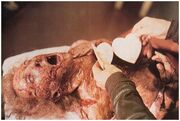 The Following was read on her card before she died:
Roses are red,
Violets are blue,
One is dead and so are you.