Margaret White was one of the main antagonists of Carrie. She is the mother of Carrie, a Christian fundamentalist and also mentally ill.
Literature
Edit
In the novel Margaret was working at the laundry of the town. She was a strong woman and a Christian fanatic. Her husband Ralph White died before Carrie was born. Because of her strength Carrie could not defend herself, when she threw her into the closet. When Carrie imposed her own will to want to go to the Prom, she rationalised her own vengeance and her wish to kill her because, in her eyes, she was a witch, with the argument, that Abraham also had the right to sacrifice his own son, namely Isaac. She manages to mortally wound Carrie, when she returns from the Prom and Carrie,in retaliation, killed her mother by stopping her heart.
1976 movie
Edit
Margaret White
is played by Piper Laurie
2002 movie
Edit
Margaret White is played by Patricia Clarkson.
This Margaret is much calmer than the original, but is still very abusive towards Carrie. When she gets the call, that Carrie had her period, she slaps Carrie at home and drags her into the closet, where she has to pray because of having committed the original sin of becoming a woman, when she had her first period. Later, when she is invited to the prom by Tommy, she throws tea at Carrie's face, when she informs her, she has been invited to prom in an attempt to stop her from going. It´s then, when Carrie first shows her power by slamming a door in front of her and later uses a table to reinforce it. Margaret calls her a witch, but relents at her insistence. While Carrie is putting on her make-up, Margaret tells her desperately not to go, but Carrie slides her mother across and out of the room and slams the door. Margaret is seen glaring behind the bushes, when she sees Carrie going with Tommy in a limo. While Carrie is at the Prom, Margaret is seen with her head down in the house while looking at a cross on the wall. It is implied, she has decided to kill her daughter to "free her of Satan". When Carrie comes home, not knowing what happened after having subconsciously snapped, Margaret attempts to drown her correspondingly.
Carrie then, with her last strength, stops her heart like in the book, killing her in self-defence. She survives the attempted murder, but only barely, thanks to Sue, who enters the house, finds her and manages to revive her.
Carrie visits her grave for the first and last time and goes with Sue to Florida. Her memory about what happened will haunt her for the rest of her life.
2013 movie
Edit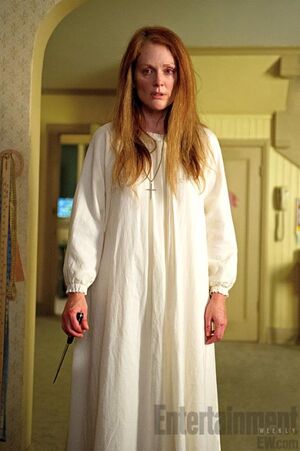 Margaret White
is played by Julianne Moore.
Ad blocker interference detected!
Wikia is a free-to-use site that makes money from advertising. We have a modified experience for viewers using ad blockers

Wikia is not accessible if you've made further modifications. Remove the custom ad blocker rule(s) and the page will load as expected.