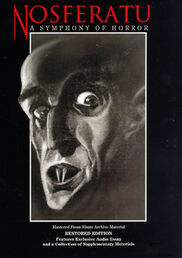 Nosferatu, a Symphony of Horror is a 1922 film directed by F.W. Murnau. It is one of the earliest produced Horror films, and considered to be a cinema classic. It turned title star Max Schreck into an icon of the Horror genre.
Appearances
Edit
Individuals
Edit
Locations
Edit
Film (Video)
Edit
External Links
Edit
Ad blocker interference detected!
Wikia is a free-to-use site that makes money from advertising. We have a modified experience for viewers using ad blockers

Wikia is not accessible if you've made further modifications. Remove the custom ad blocker rule(s) and the page will load as expected.