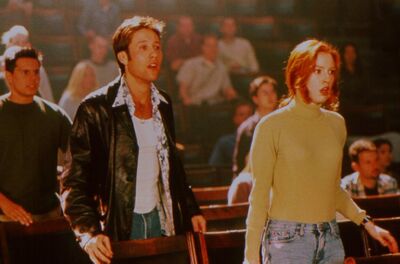 Parker Riley appears as a male victim in the 1998 slasher film Urban Legend.
I'm Not Babysitting any Kids
Edit
Parker Riley was a student at Pendleton College and was dating Sasha Thomas.
Parker is a wild partier and good friends with Damon Brooks, Natalie Simon, Paul Gardner and Brenda Bates. Parker is part of a fraternity at Pendleton, the Omega Sigma Phi, and is constantly throwing parties and misusing his pet dog.
Parker is seen throughout the film planning his Stanley Hall Massacre party as part of the 25th anniversary. Parker is also like Damon Brooks - who he constantly mucks around with - as a practical joker and horny frat boy.
He is also mildly alcoholic and dislikes the intelligent, know-it-all Paul. He is the 5th victim of the Urban Legend killer Brenda, and like Sasha, Dean Adams, Damon Brooks and Tosh Guaneri, he is killed solely for being acquainted with Natalie Simon.
Parker is killed at his party, after discovering his dog's bloody corpse in the microwave, via Pop Rocks and drain cleaner poured down a beer sucker.
His body is then taken and dumped in a fluff filled garbage bin inside Stanley Hall.
It's Just Like That Urban Legend
Edit
Damon's urban legend death is enhanced, as Brenda uses the Pop Rocks and soda legend but instead of the soda she uses drain cleaner to ensure his stomach bursts.
Ad blocker interference detected!
Wikia is a free-to-use site that makes money from advertising. We have a modified experience for viewers using ad blockers

Wikia is not accessible if you've made further modifications. Remove the custom ad blocker rule(s) and the page will load as expected.