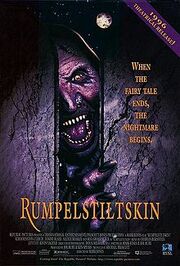 Rumpelstiltskin
is a 1996 horror film directed by
Mark Jones
. It stars
Max Grodénchik
as the title character and
Kim Johnston Ulrich
as the main protagonist, Shelly Stewart.
In the 15th century, Rumpelstiltskin is imprisoned inside a small jade figurine. In modern-day Los Angeles, the recently widowed wife of a police officer, with baby in tow, finds her way into a witch's shop and purchases a certain figurine, resulting in the cackling beast being freed and demanding possession of the baby.
Rumpelstiltskin was not a success at the box office, it made only $306,494 dollars, with its widest release being 54 theaters.[1]
Ad blocker interference detected!
Wikia is a free-to-use site that makes money from advertising. We have a modified experience for viewers using ad blockers

Wikia is not accessible if you've made further modifications. Remove the custom ad blocker rule(s) and the page will load as expected.