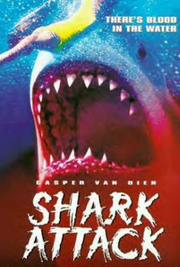 Shark Attack is a 1999 television film directed by Bob Misiorowski starring Casper Van Dien, Jenny McShane, and Ernie Hudson.
Steven McKray, a marine biologist, travels to a small African fishing village to investigate a series of violent shark attacks, only to discover that sharks are not the only problem.
Production
Edit
The movie features very few on-screen shark attacks. However, an attack on a tourist dangling her leg in the water is very realistic and in line with documented shark attacks. Instead of the shark taking off her whole leg, it takes out a large chunk of flesh, which later required surgical amputation.
Casper Van Dien
Ernie Hudson
Three direct-to-video sequels followed Shark Attack. Shark Attack 2 was released in 2001, Shark Attack 3: Megalodon was released in 2002, and Shark Zone released in 2004.
Ad blocker interference detected!
Wikia is a free-to-use site that makes money from advertising. We have a modified experience for viewers using ad blockers

Wikia is not accessible if you've made further modifications. Remove the custom ad blocker rule(s) and the page will load as expected.