Ad blocker interference detected!
Wikia is a free-to-use site that makes money from advertising. We have a modified experience for viewers using ad blockers

Wikia is not accessible if you've made further modifications. Remove the custom ad blocker rule(s) and the page will load as expected.
IMDb Rating

5
Directed By
Steven C. Miller
Produced By
Shara Kay,
Phyllis Laing,
Richard Saperstein,
Brian Witten
Written By
Jayson Rothwell
Starring
Malcom McDowell,
Jaime King,
Ellen Wong,
Brendan Fehr
Music By
Kevin Riepl
Cinematography
Joseph White
Editing By
Seth Flaum
Distributed By
Anchor Bay Films
Release Date(s)
November 30, 2012
Runtime
94 minutes
Country
United States
Language
English
Gross
$14,567
Silent Night is a 2012 horror film, written by Jayson Rothwell and directed by Steven C. Miller. It is a loose remake of a classic 80s horror film Silent Night, Deadly Night.
Aubrey Bradimore (Jamie King), the deputy of a small Midwestern town is forced to hunt for a serial killer on Chistmas Eve. With the help of the smart ass Sheriff Cooper (Malcolm McDowell), gossipy secretary Brenda (Ellen Wong), and the inept Deputy Giles (Andrew Cecon), Deputy Bradimore must track a Santa Clause killer during the small town's Christmas Eve Santa parade, when half the town is dressed in the same costume as the killer. Suspects begin to add up as Aubrey investigates; including Mayor Revie, his porn star daughter Tiffany and her boyfriend Dennis, despicable Reverend Madeley, and the snarky Santa Jim (Donal Logue). As the killer begins pursuing the naughty citizens in the town, the body count begins to rise. Will Deputy Bradimore discover the killer's identity before the murderer gets to her?
Body Count
Edit
Alana Roach- Dismembered
Deputy Jordan- Electrocuted with busted Christmas lights until his eyes burst
Mrs. Morwood's daughter- Electrocuted with a cattle prod and impaled with a fireplace poker
Goldie- Gutted with a scythe
Frank- Stabbed in the crotch with a scythe and then butchered offscreen
Maria- Leg chopped off, then thrown in a tree farm wood chipper
Reverend Madeley- Fingers cut off, then brutally stabbed to death
Stein Karsson- Shot in the head
Wife (In Flashback)- Burned alive with a flamethrower
Mayor Revie- Strangled with Christmas lights
Tiffany- Ankle sliced, then impaled on a pair of deer antlers
Dennis- Head split open with axe
Deputy Giles- Impaled in the face with a pipe
Mr. Bradimore- Gutted
Sheriff Cooper- Burned to death with flamethrower
Santa Jim- Beaten in the face with brass knuckles
Husband (In Flasback)- Shot to death by the cops
Malcolm McDowell - Sheriff Cooper
Jaime King - Aubrey Bradimore
Ellen Wong - Brenda
Donal Logue - Santa Jim
Brendan Fehr - Deputy Jordan
Lisa Marie - Mrs. Morwood
Ali Tataryn - Alana Roach
Jessica Cameron - Nurse
Aaron Hughes - Frank
Courtney-Jane White - Tiffany
Erik J. Berg - Dennis
Cortney Palm - Maria
Mike O'Brien - Stein Karsson
Rick Skene - Ronald Jones, Jr.
John B. Lowe - Dad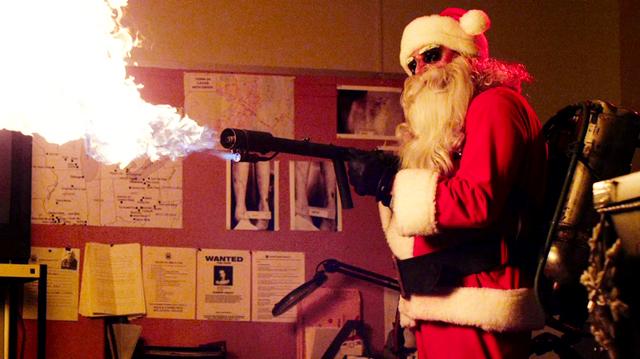 External links
Edit