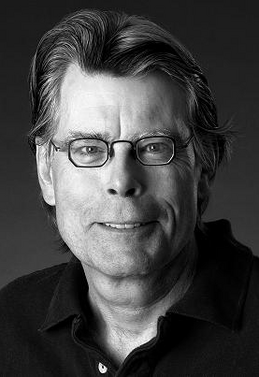 Stephen Edwin King (born September 21, 1947) is an American author of contemporary horror, suspense, science fiction and fantasy fiction. His books have sold more than 350 million copies and have been adapted into a number of feature films, television movies and comic books. As of 2011, King has written and published 49 novels, including seven under the pen name Richard Bachman, five non-fiction books, and nine collections of short stories. Many of his stories are set in his home state of Maine.
King has received Bram Stoker Awards, World Fantasy Awards, British Fantasy Society Awards, his novella The Way Station was a Nebula Award novelette nominee, and in 2003, the National Book Foundation awarded him the Medal for Distinguished Contribution to American Letters. He has also received awards for his contribution to literature for his whole career, such as the World Fantasy Award for Life Achievement (2004), the Canadian Booksellers Association Lifetime Achievement Award (2007) and the Grand Master Award from the Mystery Writers of America (2007).
Movies based off his books
Edit
Carrie (1976)
The Shining (1980)
Creepshow (1982)
Cujo (1983)
The Dead Zone (1983)
Christine (1983)
Children of the Corn (1984)
Firestarter (1984)
Silver Bullet (1985)
Maxmium Overdrive (1986)
Stand By Me (1986)
Creepshow 2 (1987)
The Running Man (1987)
Pet Sematary (1989)
Graveyard Shift (1990)
Misery (1990)
Sleepwalkers (1992)
The Lawnmower Man (1992)
The Dark Half (1993)
Needful Things (1993)
The Shawshank Redemption (1994)
The Mangler (1995)
Dolores Claiborne (1995)
Thinner (1996)
The Night Flier (1997)
Apt Pupil (1998)
The Green Mile (1999)
Hearts in Alantis (2001)
Dreamcatcher (2003)
Secret Window (2004)
Riding The Bullet (2004)
1408 (2007)
The Mist (2007)
No Smoking (2007)
The Dark Tower: Gungslinger (2007)
Dolan's Cadillac (2009)
Children of the Corn: Genesis (2011)
Carrie (2013)
A Good Marriage (2014)
Mercy (2014)
Cell (2015)
Ad blocker interference detected!
Wikia is a free-to-use site that makes money from advertising. We have a modified experience for viewers using ad blockers

Wikia is not accessible if you've made further modifications. Remove the custom ad blocker rule(s) and the page will load as expected.