Sylvia appears onlyas a character in the original of My Bloody Valentine 1981
How do you get those down?
Edit
Sylvia is the beautiful girlfriend of a fellow Hanniger miner and briefly attends the secret Valentine Party.
Sylvia is killed by Axel after her boyfriend goes to retrieve more drinks leaving her in the changing rooms of the Hanniger mine.
Suddenly the rope hook you must pull to release the over hanging mining gear deploys scaring Sylvia.
As she makes her way past the dropping outfits the killer lunges and grabs her cheeks lifting her up.
He steers Sylvia towards the showers and sticks her on the nozzle killing her
Sylvia's boyfriend eventually returns to discover he gruesome corpse.
Sylvia is seen also the bar meeting in the opening and bits scattered in between.
Dont Take Too Long
Edit
Helen Udy portrays Sylvia.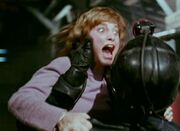 Sylvia is one of the last victims of Axel before the mine fight and dies directly after another miner.
Ad blocker interference detected!
Wikia is a free-to-use site that makes money from advertising. We have a modified experience for viewers using ad blockers

Wikia is not accessible if you've made further modifications. Remove the custom ad blocker rule(s) and the page will load as expected.