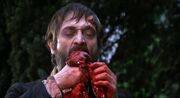 This astoundingly graphic zombie shocker from cult director Jorge Grau is stylishly presented for it's type. No cannibal holocaust-style film grain is present here; instead, the cinematography of the countryside is gorgeous to say the least. Using a narrative similar to that in Romero's
Night Of The Living Dead
, Grau's movie involves a plot revolving around a government-developed pesticide that accidentally reawakens the corpses present in a Manchester morgue.
Alternate Titles
Edit
This particular zombie film is known by many titles. This is the complete list:
No profanar el sueño de los muertos
Non profanare il sonno dei morti
Let Sleeping Corpses Lie
Don't Open the Window
Da dove vieni?
The Living Dead
Breakfast at the Manchester Morgue
Breakfast With the Dead
Brunch with the Dead
Weekend per i morti
Weekend with the Dead
Invasion der Zombies
Das Leichenhaus der Lebenden Toten
Levende Doden in het Lijkenhuis
Massacre des Morts-Vivants
Dejen que los Muertos Duerman
Zombi 3 - Da dove vieni?
Fin de semana para los muertos (shooting title)
Controversy
Edit
The film was censored and even banned in some areas because of its alarmingly graphic gore (bowels are ripped apart, chests are torn open). The viscera displayed in the movie earned it a place on the infamous "video nasties" list and made it one of the most notorious of all Spanish horror films. The nauseating gut-chomping scenes are reduced in some DVD releases and extended in others.
External links
Edit
Ad blocker interference detected!
Wikia is a free-to-use site that makes money from advertising. We have a modified experience for viewers using ad blockers

Wikia is not accessible if you've made further modifications. Remove the custom ad blocker rule(s) and the page will load as expected.