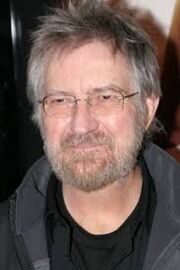 William Tobe Hooper was an American film director, screenwriter, and producer. He was best known for his work on the Texas Chainsaw Massacre (franchise) series.
Early life and work
Edit
Born in Austin Texas, Hooper was first introduced to film by his father. His father owned a theater in San Angelo. A young Hooper used one of his fathers 8mm cameras at age 9. His best work The Texas Chainsaw Massacre was made in 1974. Argument over Hooper's involvement in Poltergeist has been the topic of some debate. Speculators argue that Stephen Spielberg had more involvement in the film than Hooper.
Filmography
Edit
Television
Edit
Salem's Lot (1979)
Freddy's Nightmares: "No More Mr. Nice Guy" (1988)
Haunted Lives: True Ghost Stories (1991)
Tales From The Crypt: Dead Wait (1991)
Nowhere Man (1995)
Dark Skies (1997)
Taken (2002)
Dance of the Dead (Masters of Horror) (2005)
The Damned Thing (Masters of Horror) (2006)
External Links
Edit
Ad blocker interference detected!
Wikia is a free-to-use site that makes money from advertising. We have a modified experience for viewers using ad blockers

Wikia is not accessible if you've made further modifications. Remove the custom ad blocker rule(s) and the page will load as expected.